Learning Stalls: Lesson Plans
collaboration with Torsten Zenas Burns
mixed media installation that included touch screen iMac and two plasma screens, 2002
Learning Stalls, Lesson Plans is both the name of an installation and a 66-minute videotape that can be screened as a singular unit, as a two-channel installation, or in chapter clusters. The installation in its entirety premiered at the Eyebeam, Beta Launch exhibit where Burns and Martin configured two 33-minute loops on two plasma screens and incorporated a touch-screen component into their first sculptural tactility kit.  The kit was made out of plastic palettes and various hardware.  The touch-screen allowed participants to activate specific additional video material and variations of the chapters that were also on the plasma screens.
Several edits of Learning Stalls, Lesson Plans, the 66 minute tape, have screened and exhibited at various venues.  Steve Seid at Pacific Film Archives describes Learning Stalls, Lesson Plans as "an episodic adventure about extra-evolutionary transformation.  Organized as 'lesson plans,' this unique work is an ambitious tutorial for the neo-nauts of inner space."  Various excerpts of the project were edited into single-channel works including
The Man Probe Examples, I am Today's Lesson Plan, and Learning Stalls: modular syllabi and organic exchange
.  
Video stills from touch screen: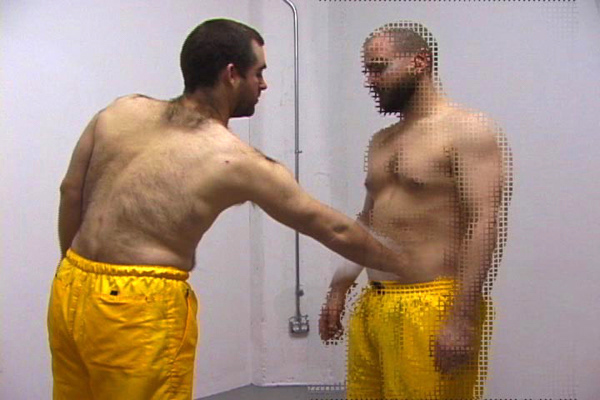 Video stills from plasma screens: