ARK 3: The Workshop Scenarios
collaboration with Torsten Zenas Burns
exhibition of videos, prints, & inflatables documented at
Krowswork Gallery in Oakland, CA.
The exhibition included three galleries.  The research gallery contained five prints, two books, and a video highlighting segments of the ARK 3 series.  A performance gallery included two inflatables, costumes, and a video of a past life regression session.  This room became the site of two live performances that were filmed, edited, and reincorporated into the exhibition.  And finally, the main gallery held a sculptural installation, which included three inflatables tethered together and four projections upon or projected through the structure, and two wall projections.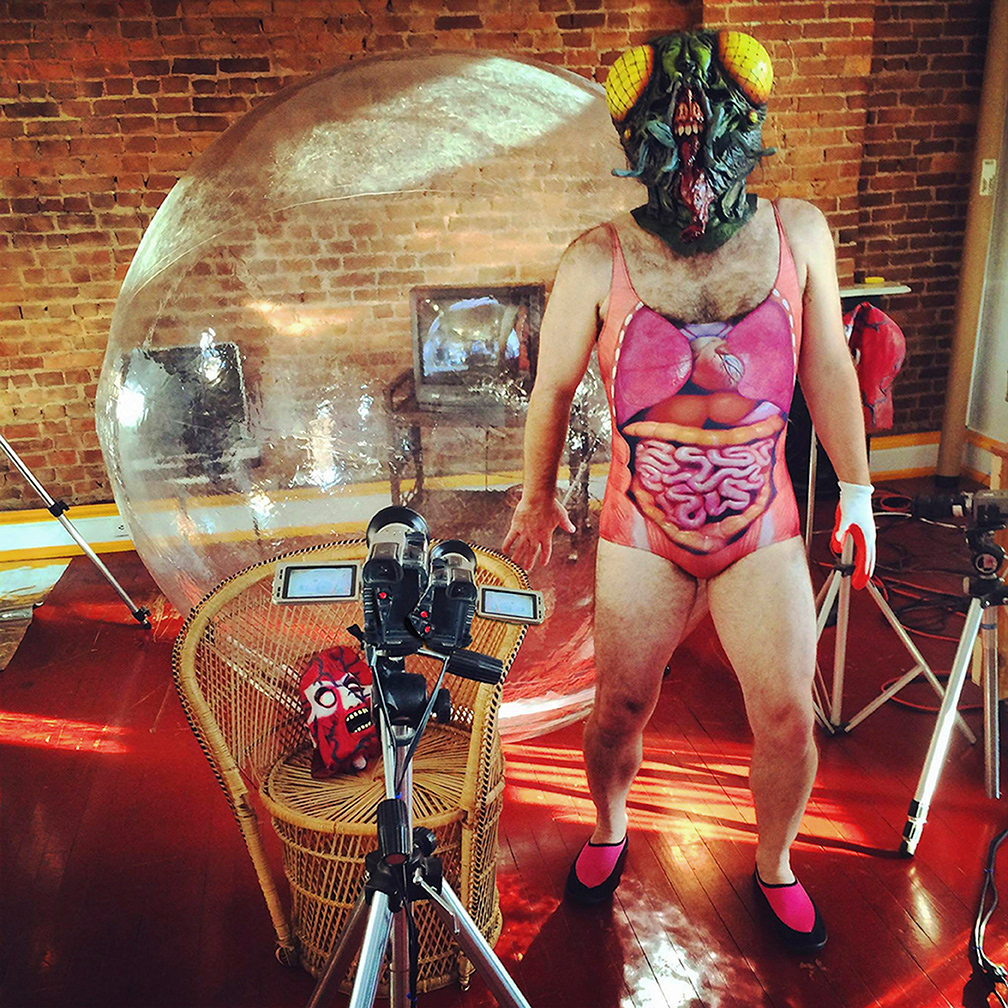 ARK 3: The Workshop Scenarios
, is a variable installation and single channel video project. The first part of the title takes its name from an obscure and short-lived children's television series named Ark II from 1976 where a group of young scientists accompanied by a talking chimpanzee attempt to bring new hope to a post-apocalyptic world that has been ravaged by pollution and waste. Their science fiction mobile lab roams a landscape populated with feral children, feudal barons, and supernatural beings.
In
ARK 3: The Workshop Scenarios
, we re-imagine this mobile lab to be colorful inflatable orbs, and its occupants, as performed by the artists and willing workshop participants are evolved bodies rather than glamorous youths. Void of their protective hides and genetically modified to be in communion with the animal and insect worlds, these earth bound bio-nauts mine the environment around them looking for clues to their ancestral past as a way to pave a way into their possible simulated futures. In their search, they discover recordings of Leonard Patrick Nimoy O'Neal introducing Laser Disc & CED technologies to a broader public. They also see early clues to their semblance in the images of the iconic anatomical human, the singing educator Slim Good Body and a cinematic fly head from 1986.  Other ancestral simulations take the form of Burn's Wiccan mother and Martin's gay cop father, both of whom act as spirit guides to the future explorers. Scenes and sonic treatments will be remixed but held together by the exploratory strand of the Ark's original mission of bringing the rationality of the pseudo scientific method back into human consciousness.
The opening of
ARK 3
at Krowswork included a live improvisational performance/action, titled
Feral Child/Ancestral Animal Spirits Séance/Past Life Regression Session
... facilitated by special guest performers Beatrice Thomas and Kevin Seaman as the medium guides.  Participants were asked to come dressed as their animal ancestors and a evolutionary séance was performed through repetitive chants and noises and the exchanging of props. 
Anatomical Quivering
was a live improvisational performance/action facilitated by Christian Burns, who worked with the artists and a handful of workshop participants to conduct improvised body movements that will make its way through the gallery to the streets outside during Oakland's First Friday events.